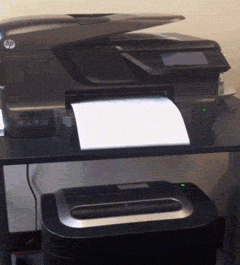 Businesses around the world use printers every day for contracts, receipts, asset management labels, and more.
It is important for businesses to understand and select the right printer for their specific needs. For example, inkjet printers can print high quality photos, but do not have the capability to print barcodes quickly and easily.
This paper will focus on the most common printers today, industrial inkjet printers and industrial thermal printers, and will introduce the advantages and disadvantages of each, typical applications, and resources for selecting your next printer.
Thermal printer vs Inkjet
What is an inkjet printer?
Inkjet printers, as the name implies, are printers that use ink to print text, graphics, and images on various types of paper. These printers are most common in homes and small offices, but many commercial printers use industrial inkjet printers to produce high-quality brochures, flyers, and other documents.
How do inkjet printers work?
Inkjet printers spray thousands of ink droplets onto paper, where they combine colours to form images and text. By varying the colour and size of these droplets, sharp, photorealistic images can be created.
Users can evaluate a printer's resolution by looking at its advertised DPI (dots per inch), a number that indicates how many droplets fit into an inch. the higher the DPI, the smaller the individual dots and the sharper the image The higher the DPI, the smaller the individual dots and the sharper the image.
What is a thermal printer?
Unlike inkjet printers, thermal printers do not produce images by shooting liquid ink through a nozzle; thermal printers, such as the Derailable Toro Max, use tiny heating elements to activate or transfer pigments.
Industrial thermal printers are most commonly used to create widely used labels, security signs, wayfinding signs, bar codes, shipping labels, and more.
How do thermal printers work?
There are two types of thermal printers: direct thermal printers and thermal transfer printers. Here is a brief explanation of how they work.
Direct thermal printers use chemically treated paper that darkens in colour when heated by the thermal print head. Direct thermal printers do not use separate inks, toners, or ribbons. Direct thermal printers are most commonly used for printing receipts and shipping labels.
Thermal transfer printers use a thermal print head to transfer solid ink from a ribbon to a label (usually a thick material such as vinyl, polyester, or nylon) to create a permanent print. The ribbon is usually made of wax, resin, or a combination of both, and is bonded to the surface of the label with heat and pressure.
Thermal printer vs Inkjet
Printing Process
Inkjet printers spray droplets of solvent-based liquid ink onto paper. They use a combination of colours to create an image and can work with a variety of paper types. Thermal printers use heat to apply dry wax-based pigments to paper, much like melting crayons on paper. The thermal printing process is faster than the inkjet process.
Quality
Inkjet printers can produce high quality photographs. However, even if the image is clear, moisture can damage the photo and cause the ink to bleed. Thermal printing is durable with a glossy protective finish, but in some cases the ink can be scratched. Thermal ink cannot be written on with a pen or pencil, so it may not be suitable for those accustomed to marking prints by hand. Care should be taken when transporting thermal printers. If the ink is moved while it is still hot, the colours may mix, making it impossible to produce the correct colour.
Accessibility
Inkjet printers are more common than thermal printers because ink, parts, and repairs are more readily available. Many manufacturers produce inkjet printers, and ink cartridges and refillable ink are readily available on the Internet and at major retailers. Ink refills and repairs for thermal printers tend to be more expensive.
Types
Inkjet printers are affordable for consumers and small businesses. High-quality inkjet photo printers can be purchased for between $100 and $400. Thermal photo printers are for large corporations, professional photographers, and businesses that need to provide colour proofs to their customers. Thermal printers range in price from $100 to $2,500.
What are the advantages of inkjet printers?
Companies choose industrial inkjet printers for a variety of reasons. Here are some of the most common advantages and benefits of choosing an inkjet printer.
Cost
Inkjet printers, cartridges, and consumables are more widely available and thus less expensive than thermal systems.
Image quality
Even low-end inkjet printers can produce near-photo quality images.
What are the disadvantages of inkjet printers?
Inkjet printers are not without their drawbacks and disadvantages. Here are some of them
Image durability
Ink-based images can be damaged, smudged, or spilled when exposed to moisture, sunlight, or general use.
Moving parts
Inkjet printers have more moving parts than thermal printers, increasing the risk of failure requiring repair or replacement.
Reliability
Printed materials such as stickers, signs, and labels often tear or peel, making them less reliable over the long term.
What are the advantages of thermal printers?
There are several reasons to consider installing an industrial thermal printer. Here are some of the benefits of investing in a thermal printer.
Durability:
Labels and signs created with thermal printers last longer and withstand a wider range of weather conditions than those printed with ink.
Versatility
Thermal transfer printers can print documents, labels, and signs for a variety of needs, including arc-resistant labels, text and graphic floor markings, and labels for harsh conditions such as cold storage.
Reduced maintenance
Thermal printers have fewer moving parts, so they last longer, are easier to maintain, and operate more reliably than inkjet printers.
What are the disadvantages of thermal printers?
While there are advantages to using industrial thermal printers, they are not without their drawbacks and disadvantages. Here are some of the complications that can arise from using thermal printers
Cost
The specialized materials used in the thermal printing process are considerably more expensive than those used in inkjet printing, costing several hundred dollars for even the most basic thermal printer.
Colour selection
Thermal printers print a small number of colours, and the high heat limits the choice of waxes and resins. (For these reasons, thermal printers cannot produce high-quality photo prints.)
Despite these drawbacks, Graphic Products offers a custom label service that allows employers to design their own labels in up to four spot colours.
Thermal printer vs Inkjet | Video Explanation
Thermal printer vs Inkjet | Infographic
FAQs
When do I need to use one printer versus another?
Because of the many printer types and label standards, it can be difficult to determine if one printer is more suitable than another.
Are thermal printers better than inkjet printers?
Thermal printers have fewer moving parts, are easier to maintain, more durable, and more resilient in the long run. However, thermal printers are also more expensive than inkjet printers.
Can thermal paper be used with inkjet printers?
Thermal paper is designed specifically for thermal printers. It cannot be used for inkjet printing. Similarly, regular paper cannot be used with thermal printers.
What is the difference between thermal printers and regular printers?
Regular printers are primarily used to print on letter-size paper using dye ink or laser printer toner. Laser and inkjet printers are probably the most commonly used printers in homes and offices. Unlike regular printers, thermal printers can output images without the use of liquid ink.
Overview
Thermal printing and inkjet printing are widely used printing methods, but they are two very different processes. Thermal printers use heating elements to burn or melt dots of text onto special thermal paper. Thermal printing is widely used in battery-powered portable printers, barcode printing, and credit card receipt printing. Thermal printers have fewer moving parts, making them more durable and reliable than inkjet printers. Inkjet printers produce text by precisely controlled dots of ink that are projected onto paper. While inkjet printers are relatively inexpensive to purchase and maintain, they are also less reliable.