Portable Printer For Photos is growing in popularity. And for good reason: small, easy to use, autonomous, this is what characterizes mini photo printers. They are able to print on formats up to the size of a postcard for a controlled printing cost.
The print quality which mainly depends on the printing technology used makes it more than just a toy. But now there are so many models that it is difficult to navigate.
This is why we have tested a large number of portable printers and sorted through the various nomadic printers to offer you a selection of the best portable photo printers that we keep evolving as innovations and releases arise.
Best Portable Printer For Photos 2022
A portable photo printer, as the name suggests, must first and foremost be portable. What defines portability? In our opinion, it is the ability of a device to be transportable but above all to operate from anywhere.
You will often see on other sites the Kodak Photo Printer Dock appears in the portable printers category. It is certainly easily transportable – you only need to see its size to understand it – but it must be plugged into a power outlet to operate.
So what is the point of walking around with a printer if you have to plug it in every time you want to print a photo?
Also Read: Best Printer Under $200
Best Portable Printer For Photos 2022 | Comparison Table
5-Stars Picks | High Quality | Top Brands
7 Top Portable Printer For Photos 2022 | Products Overview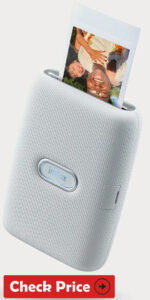 About:
The Instax Mini Link is the new instant printer model from Fujifilm. It has a modern, more rounded design and is available in three colors: powder pink, denim blue, and ash gray.
To take advantage of all the options it has to offer, downloads the Mini Link app and pairs your phone via Bluetooth, go to your photo library and choose from the different frames and filters. It also offers a Party Print mode through which you will create a unique impression with your friends.
The Instax Mini Link has a print speed of around 12 seconds, continuously and it can shoot up to 100 photos on a single charge. As for the paper, it uses 54 x 86mm Instax mini-films for a photo size of 46 x 62mm.
Also, Read if you are interested in Best Printer For Mac
Features:
Easy printing
The most commonly used mode by default. Print individual photos from your phone. You can apply basic edits such as cropping, filtering, and emphasizing images.
Frame print
Similar to simple printing, except that you can add frames and overlays to your photos. Fun little fashion that can add some sense to your prints.
Video printing
One of the best new print modes. This option allows you to print individual images from any video on your phone. You can easily switch between videos until you find the moment you like. A great feature for people who capture more videos than photos. Short videos work best because they are easy to scroll and load fast.
Instax Camera
Basically, it turns your phone into a temporary "InstatisableCamera". Add your phone's built-in camera to instantly print what you've taken. This mode activates the "Tilt to Zoom" feature of the Printer Move control. I don't know how to use this mode. The strength of printers and apps is that they can fully capture and crop all photos before printing.
Charging: Instax Mini Link takes approximately 80-120 minutes to charge
Connectivity:
Pros
Print instax mini-plans from your phone
Easy Bluetooth installation
Affordable price
Cons
Higher printing cost than Zink
Charging port is not USB-C
Bottom Line: Fujifilm Instax Mini Link uses real instant film instead of paper or ink to print shots on your phone's camera roll. Its an affordable with great printing outputs.
About:
The Selphy Square QX10 solely designed to make fun square prints from images stored on your phone. Truly portable, this photo printer fits in a bag or jacket and is designed to print photos anywhere. This portable photo printer using more qualitative printing technology than the Zink, since it is thermal sublimation, a technology that has long been used in Canon's connected Selphy printers.
Also Read: Best Printer For Chromebook
thermal sublimation is a printing process that can be found on the few photo terminals that remain in supermarkets: the printer does not use ink but pigmented wax which, heated at high temperature, changes from a solid state to a gas and is projected onto the photo paper where it cools and solidifies.
To obtain the final photo, the printer superimposes three layers of color: yellow, magenta, and cyan (256 color levels) then applies a layer of protective varnish.
It is for this reason that the thermal sublimation printing passes the photo 4 times in front of the roller before it is finished. This explains the printing time for high-quality photos, with the Selphy Square QX10 at a speed of 43 seconds per photo.
Features:
The Selphy Square QX10 thus allows you to print photos in the square format of 6.8 x 6.8 cm (281 dpi) on Canon XS-20L photo paper which has white borders and reproduces the rendering of old Polaroids, or recent Instax. The photo paper thus measures 7.2 x 8.5 cm. Note that the photo is slightly larger than on the Instax Square, which measures 6.2 x 6.2 cm.
The final layer of thermal sublimation helps protect the print from moisture and dust and Canon promises 100-year tear and fades resistance - if the photos are stored in a photo book.
Canon's Selphy Square QX10 printer runs on battery and recharges via micro USB, convenient for plugging into an external battery on the go. A full charge can print a maximum of 20 photos.
The printer measures 102.2 x 143.3 x 31mm and weighs 445g , not including paper and ink cartridge, which is relatively heavy. Canon XS-20L Photo Paper is sold in packs of 20 - 3 sheets are "included" with the printer - and include the ink cartridge.
You may also be interested in the Best Printer for Teachers
Connectivity:
To print a photo, you need a smartphone or tablet and the latest Selphy Photo Layout 2.0 application on Android or iOS. A QR Code on the back of the printer makes it easy to find the app when you are with friends.
Then, the application allows you to print your photos taken on the smartphone or stored on your social networks or your photo library - hello image.canon - and also allows you to make montages (collages, stamps, borders, etc.) and corrections. basic.
Pros
Canon's battery is good for 20 prints per charge
Its a portable wireless photo printer
Small square prints output
Cons
can't connect their USB ports
Bottom Line: The promise of quality offered by thermal sublimation is a real asset compared to Zink technology, fun but rather disappointing from a quality point of view. Canon does not have the emotional connection with the silver print that Fujifilm has, but this printer is offered at a price and in an attractive format that could allow Canon to pull it off.
3.HP Sprocket Plus Cheap ultra-compact portable printer
About:
Just like the printer, considered " Ultra-portable " with its dimensions of 14.2 × 8.9 × 1.8 cm and its weight of 204 grams, the packaging is no bulkier and contains a nylon micro USB type charging cable please (that's a change from the beast cable that breaks after two months and twelve twists!), a quick start guide and a pack of ten HP photo sticker papers ZINK S2 history to start right away!
Available in white with gold edging or in black with silver edging, the Sprocket Plus sports a really nice design with its high-quality and ultra-shiny plastic (we could almost replace our little pocket mirror with this one so it sounds awkward!
you may also be interested in Best Wireless Printers for IPad
Features:
If the HP Sprocket Plus takes the design of its little sister, it also adopts the mode of operation. You will therefore have to go through the same mobile application as the original Sprocket.
Thanks to it, it is notably possible to modify your images, adjust their brightness, contrasts and add filters and text, among others.
Print Quality: Like most pocket printers, the HP Sprocket Plus takes over the inkless printing that comes with Zero Ink technology. Developed by the Zink brand, this printing process uses Zink paper, a sheet that contains cyan, magenta, and yellow crystals that will color when heated. It is the printing roller that will diffuse this heat at a more or less high level and over a different duration to activate such or such crystals.
Speed: The Sprocket prints in 40 seconds, at a resolution of 313 x 400 dpi, in a 5 x 7.6 cm format.
Like most of its competitors, it is equipped with the Zink Zero Ink system, a thermal process that avoids the use of ink.
Battery: The HP Sprocket Plus runs on a battery that you can charge from any USB adapter, unfortunately not included with the printer. You can also recharge the device from the USB port of a PC or a device equipped with a USB but this will take more time than on mains. Allow on average 1h30 for a full charge that will allow you to print 30 photos.
Connectivity:
Very easy to use, it connects to your smartphone via Bluetooth 5.0 and prints any snapshot shared on your social networks, via the HP Sprocket application.
Pros
Fits easily in your pocket
No need for ink cartridges
resistant to heat, humidity, and exposure to light
Best quality on Zink paper
Larger print size than the competition
Cons
heatup sometime, but not an issue
Bottom Line: The Sprocket Plus is an overall well-finished printer that will slip easily into a bag to take anywhere and bring your memories to life on any occasion. The dedicated application adds a touch of fun and will awaken everyone's creativity thanks to its frames, filters, Emojis and so on!
4.Prynt Pocket Best Portable Printer For iPhone Photos
About:
The Prynt Pocket is the ultimate accessory for the iPhone. Behind its retro camera form actually hides a small pocket printer that uses inkless paper to print small photos from your phone. On an already busy market, let's take a look at how this Prynt Pocket is positioned.
Also Read: Best Portable Printer For iPhone
The Prynt Pocket has style. The quality of the photos are not perfect but the inkless printing, the wallet size, and the adhesive backing will be ideal for those who want to share moments other than through social networks. The photo animation option is great and will definitely impress your friends.
Also Read: Best Printers For Heat Transfers 
Features:
Design
Prynt is a product imagined by two French people which was launched in 2015 via the crowdfunding platform Kickstarter. After extremely fast fundraising and the release of the Prynt Case, an iPhone case capable of instantly printing photos taken from its phone, the brand released two years later the Prynt Pocket, a more compact version of their 1 er model.
The Prynt Pocket stands out from the competition on many points and the first is its design. The pocket printer looks and has the same texture as a camera grip and like a retro camera, the paper is inserted from the top and it comes out printed from below. This changes significantly from HP, Polaroid, and others which all offer flat rectangular cases.
Printing is done via the Prynt app. And it is on this credo that brands can stand out because the entire printing process is based on the quality of the app. It is not easy for a small brand like Prynt to develop an app at the level of the HP Sprocket or the Canon Zoemini, but the bet is successful.
Print quality
The Prynt Pocket uses Zink papers in 2 x 3-inch format. Composed of different layers of colored crystals, Zink paper does not require any ink to print. The printer emits a heat source of varying intensity and length to melt the crystals that will color the paper.
The Prynt Pocket takes only 30 seconds to print a photo. That's less than the 50-second average for the competition. You can load up to 10 sheets at a time. Once integrated into the magazine, all you have to do is insert the latter inside the pocket printer. If necessary, the app offers a demo video for the first time.
Zink paper is equipped with a self-adhesive side which allows each photo to be transformed into a sticker. As with all pocket printers that use Zink paper, the print quality of the Prynt Pocket suffers from the same flaws. The photos stand out rather well and we can clearly see the contrasts. But the colors aren't saturated enough, the photos lack depth, and you'll often see a pretty big lag between the image you see on your phone and what comes out of the printer. The added texts are a bit blurry and the images look washed out.
Also Read: Cheapest Airprint Printers
Connectivity:
The app works great for printing photos taken on the fly or saved to the phone. Here, no need to connect your phone via Bluetooth and you will find all the basic features to edit a photo before printing it. Each printed photo will be saved on the app which allows you to revise the changes made. Filters, frames, stickers, and texts, you will have access to the classic customization options as well as the retouching of photo exposure, brightness, saturation, contrast, shadows, and lights.
Pros
Well designed and well-built product.
Easy to use.
Honest print quality.
Reasonable cost per photo.
Efficient and user-friendly application.
An additional touch of creativity thanks to augmented reality.
Cons
Zink paper a little expensive
Only usable with an iPhone
Bottom Line:As well as being a stylish accessory, the Prynt Pocket is well thought out for the user. The quality of the photos is far from perfect but this type of pocket printer is especially intended for young people who want to save memories other than through social networks and for those who like to stick memories on a scrapbook or on their fridge.
About:
Features:
The build quality is very good. There are a screen and lots of buttons, and everything is seamlessly integrated. The placement of the paper is done very easily, via paper cassettes available in several formats. Once the cassette is in place, there is an additional bulk and it will be necessary to provide a little space at the back of the printer since the sheet comes out about ten centimeters several times before coming out from the front.
Also Read: Best Printer For Cricut
Print quality
Printing is done by thermal sublimation, with a limitation of the definition to 300 x 300 dpi. For postcard prints, a slightly higher definition would not have been too much, but we are still in a very good quality print. The clichés render very well, with a precision that has nothing to envy to larger and much more expensive printers.
Colors are well reproduced, especially blues and reds. Greens maybe a little less natural, but only professionals will tell the difference. The printer automatically applies a slight smoothing, to erase the loss of detail, which really brings a rendering very close to professional prints.
In the category of portable printers, it is far ahead of its competitors. It even competes with much larger printers, which do not display such a high level of precision. The quality/size ratio, therefore, seems really excellent.
The Selphy CP1300 ink cartridge and the battery can hold a charge for 54 prints. Unfortunately, this battery is not delivered with the printer and we also regret the absence of a handle to transport the small printer.
Connectivity:
One of its strengths and in its multiple possibilities of connection. There is immediately a USB port to connect a computer, a USB host port, to connect a USB key or a smartphone, and also a port for the SD cards of our digital cameras. There is obviously a Wi-Fi module for a wireless connection, in order to launch a remote printing, without getting up from your sofa.
Also Read: Wireless Printers Under $100
Pros
A photo format in 15 x 10 cm
Numerous connection possibilities
Total autonomy thanks to its screen and controls
An affordable price for consumables
Very good print quality
Cons
Larger weight and size than real portable printers
Quite noisy when printing
Bottom Line:This photo printer is one of the best sellers on many online shopping sites, and it clearly does steal its success. It takes up little space on a desk, its build quality is very serious and its use really practical. You plug it in USB to a PC or a smartphone, you insert an SD card or you use your Wi-Fi module, the connection possibilities are numerous.
About:
No wonder then that the Kodak Photo Printer Mini is an adaptation of Kodak sauce, especially with just one button, it goes very well with Kodak's slogan "Push the button, we do the rest".
Likewise, she wins the match on the scale, since she only charges 238 g at the weighing! A real featherweight. Finally, the photos produced seem well detailed and contrasted: if you add to that a cost per photo that is rather well-controlled, this Kodak printer could well seduce you.
if you are not in too much of a hurry to get your photos ( it takes almost 90 s for the printer to output a photo)!
Also Read: Top-Rated Printer For Printable Vinyl Stickers
Features:
Design
With the Mini 2 Instant Photo Printer, Kodak improves the 1st version of its Kodak Mini by making it more portable. Become a real pocket printer, the Kodak Mini 2 has been shrunk: 78.2 x 132.4 x 25.4 mm for a weight of 238 g, it is half the thickness of the original Kodak Mini and especially 6 cm shorter and 2 cm narrower.
It's a bit bigger than a Zink printer but this Kodak Mini 2 Instant Printer is still very portable and can still fit in a pocket. And unlike its tiny competitors, it prints slightly larger formats in 2 x 3.4 inches, ie 1 cm more in height.
The Photo Printer Mini is a portable and compact printer that connects via Wi-Fi, Wi-Fi Direct, or NFC to an Android or iPhone smartphone using the Kodak Printer Mini application. This small flat rectangle is autonomous (with a 620 mAh battery rechargeable in micro-USB and allowing to print 20 photos per charge - recharging time 1h30), measures 7.93 x 15.63 x 2.46 cm, and weighs 250g.
Print quality
The Kodak Mini 2 is a thermal sublimation printer. Unlike Zero Ink technology which does not use ink and incorporates liquid crystals inside the paper, thermal sublimation contains ink in solid form which is heated by the print head to be projected at the gaseous state on the sheet.
The cartridge which contains the ink and the paper fits into its compartment by opening the right side of the case. Each cartridge can print 8 photos.
Printing cost
Kodak offers its cartridges in different packs. Buying a pack of 20, 30, or 50 prints will not mean the same to you and as with all brands, the more quantity you buy the better the unit price. Unfortunately, Kodak paper is not equipped with a self-adhesive surface on the back as on Zink paper. You will not be able to turn your photos into stickers.
Connectivity:
Although the NFC (Near-field communication) connection is the simplest, it turned out to be quite unreliable during our test. We have indeed suffered data loss between the phone and the printer and recommend the use of Bluetooth instead.
Once your phone is connected, you can print any photo saved on it but also print from Google or networks such as Facebook or Instagram for the most famous.
Pros
Detailed and contrasting photos
Moderate cost per photo
Affordable price
Cons
More expensive than Zink paper
Battery capacity a little tight
Bottom Line: With its new size, the Kodak Mini 2 is one of the only alternatives to Zink paper used on almost all pocket printers. Better in quality, longer printing time and higher unit cost are worth considering before investing in this Kodak Mini 2.
About:
The most recent variation of Fuji's nomadic printer, this SP3 has the advantage of being compatible with the brand's 62 x 62 mm Instant Square square format, without (too much) sacrificing the compactness of the device (13 x 12 x 4.5 cm approximately), whose aptitudes for nomadism remain intact,
in particular thanks to a very satisfactory autonomy, to a still minimal weight (312 g), and to a Wi-Fi Direct compatibility, which allows it to connect as well to your phone than to your computer.
Features:
Likewise, while some competitors do without a well-thought-out and well-finished application, the one offered by Fuji offers remarkable handling and ergonomics.
It's just a pity that the progress made by Fuji does not apply to the colorimetry of the photos produced, which suffer from sometimes marked color casts.
Take photo access launches the camera application on your smartphone. It is therefore a shortcut, a little superfluous but which has the merit of playing, with the previous option, the card of instantaneity which is supposed to bring this product closer to the rest of the Instax range.
The Select from Gallery feature is likely to be one of the most used. It is a file explorer that will bring up the photos present on your phone. You can also connect to your profiles on the various social networks, to extract images from them: Instagram and Facebook appear in a good position in the options, but also Google photo, Flickr or Dropbox
Finally, and as was the case with the manufacturer's SP2, the cost per photo is high, due to the prohibitive price of Fuji paper. But if you're a fan of the Fuji square format and are determined to give in to the vintage sirens, then the Instax Share SP-3 might be your eye-catcher.
Connectivity:
Thanks to a Bluetooth connection, you can print easily from your smartphone, just download its free application ( iOS or Android ), choose an image from your photo gallery or via your social networks, add a template and modify it as you wish before starting printing.
Pros
Compatible with Instax Square format
Remarkable autonomy, compact and lightweight printer
Exemplary application
The very successful design
Numerous, fun and original options for some
Cons
Ergonomics of the application could be improved
The few interface translation problems
Images rich in detail are not always rendered with finesse
Bottom Line:Printer with a neat design, the Instax Share SP-3 will appeal to all those who do not necessarily want to equip themselves with a camera but who want to print images made with their phone or from social networks , and who wish to give them a polaroid rendering .
How to Choose The Best Portable Printer For Photos 2022 | Unrivaled Guide
What is a portable photo printer? Powering a mini photo printer
Battery:
You will understand, a portable photo printer worthy of the name must therefore have an autonomous power supply. This is why they are always equipped with a battery.
The batteries of nomadic printers are rechargeable by USB cable. The cable is supplied with the printer and you can connect it to any device with a USB port and plugged into the mains to charge the printer - typically a PC - but you can also plug the USB cable into an adapter.
Charging the battery usually takes 1 hour but can take up to 3 hours. In general, the longer the charging time, the greater the capacity of the battery.
Read Our Great printer buying guide here
Be careful with this lifespan precisely because if you want to use your printer all day without being able to recharge it, you risk finding yourself quickly limited. If you are looking for autonomy above all, then avoid the HP Sprocket whose battery can only print 10 photos before it runs out. Conversely, the Polaroid Mint will hold up to 50 prints as for the Fujifilm Instax Share SP-3, it is far ahead of the others with a battery life of 160 prints.
And why not get around the problem by equipping yourself with additional batteries? Well, it's not that simple since most models do not allow access to the battery without disassembling the printer. The only models that allow this are the Canon Selphy CP1300 and the Fujifilm Instax Share SP-3.
The size of the photo printer
A portable photo printer must be of a reasonable size and weight to be easily transportable. While the majority of nomadic printers are printers that fit in a pocket, some have chosen to offer printers a little larger but which offer significant advantages. It's up to you to position the slider that best matches what you want between portability, size, and print quality or functionality.
A pocket printer measures on average 12cm long and 2cm wide, which is smaller than a smartphone. However, they are a little thicker, between 1.8 and 2.5cm. We have compared several models on this guide to pocket printers.
On the other hand, we find the Canon Selphy which is one of the most imposing and which measures 6 cm high, 17.8 cm wide, and 13.7 cm deep. It is certain that it does not fit in a pocket but its size and weight of 1.13kg still allow it to be moved rather easily.
The main advantage of a slightly larger printer is the print size. With a pocket printer, you will get a print the size of a blue card while the Canon Selphy prints in postcard size.
There is a middle ground with models inspired by the design of pocket printers but offering print sizes a little larger than a credit card. These include the HP Sprocket Plus and the Lifeprint which are the same thickness as their little sisters but which are a little wider and longer.
Connectivity
All portable printers can be used from a dedicated application that must be installed on your smartphone. The mobile app is also an obligation for almost all portable printers on the market since they cannot be controlled otherwise.
This is what allows manufacturers to offer sleek designs with only the power button and sometimes a print button.
Once the printer is connected to your smartphone via Bluetooth, you will be able to choose to print any photo stored on your phone. It is often also possible to print photos from social networks like Facebook, Instagram, etc.
The Canon Selphy CP1300 is the only one that does not require the use of the app to print. It is possible to connect to it via WiFi from your computer, insert an SD card or connect a hard drive in USB making it much more flexible.
If you have a Fuji camera, it is possible to connect it by USB to the Fujifilm Instax, which makes it possible to promote the followers of the brand by offering them an exclusive feature.
The smartphone printer war to stand out is therefore played mainly on the application. Offering a neat interface, intuitive and simple navigation as well as the possibility of personalizing their photos makes it possible to attract a young audience able to immediately take control of the device.
Even if all the applications go in this direction, they are not all at the same level. Some are more beautiful than others and offer more customization options. Despite everything, they are not at the level of dedicated editing applications. If you are adept at customizing photos, it is better to go through one of these apps before printing.
Some printers offer new options on their application. The most notable is the animation of the photos . When you view the printout from the app open on your phone, it will come to life in the form of a small video associated with the photo. Both the Lifeprint and the Prynt Pocket offer this Harry Potter-style feature.
The trend of portable photo printers
Formerly reserved for very specific uses, the nomadic photo printer is now particularly popular. Because the photo itself has largely democratized. Many people today are equipped with a reflex or a compact hybrid capable of producing flattering photos in all light conditions.
Getting these images out of the device screen is therefore a strong temptation, especially during a birthday, a wedding, or any other festive occasion. Such a device allows the host to offer his guests memories of the day or the evening.
It can also be used for professional use and allow photographers to add a little extra to their usual services.
A small photo printer: advantages and limitations
Technological progress in terms of compactness and battery endurance has enabled nomadic printers to perform well enough to satisfy the greatest number. However, not all are the same in this area. It is therefore essential to check the weight, size, autonomy, capacity in terms of photo paper before making your choice. Of course, rendering is important: check the compatible formats as well as the quality of the photos before purchasing.
These are all criteria that we evaluated when determining our selection of the best photo printers.
The quality of prints from a portable photo printer
The print quality of a mini photo printer is not equivalent depending on the technology used. The photos on Zink paper and on film lack depth and detail even if the general quality remains quite good.
Some Zink printers tend to produce prints that look blue or red. But the technology is still recent and it is evolving quickly. The Polaroid Mint and the HP Sprocket Plus offer the best quality with more color respect than other models.
Sublimation printing provides a better quality result with respect for colorimetry closer to reality and better details. The technology is not at the level of laser printers but remains quite suitable and competes even with tobacconist and self-service printers.
How Does Portable Printer Works...?
Various technologies are used to print photos, the most common being inkjet and laser printers, but more portable (inkless) photo printers. They look like miniature digital cameras.
So how do you print without ink cartridges? The secret is the connection between the camera and the WiFi network via a USB adapter wire.
This effectively allows the printer to be connected to the camera. If your phone is compatible with a printer, you can send image data over radio waves and peel it off with color photos and numerous decoration options.
Portable photo printers, as you can imagine, are much smaller than inkjet printers and laser printers, and are useful for instantly creating images on paper.
Without ink cartridges, the maintenance of these printers is also half that of traditional photo printers.
However, portable wifi photo printers may not be the best option for all buyers. For larger, well-defined prints, inkjet printers may be suitable for your needs.
Laser printers are definitely the ideal solution when printing wholesale for large offices.
Inkjet printer
Inkjet printers are the most commonly used type of printer. They are available in various shapes, sizes, and prices.
The advantage of inkjet printers is that they are quieter than other models and allow for very detailed printing (i.e. higher print resolution). Inkjet printers re-create digital images using two methods: continuous inkjet and drop-on-demand.
Continuous inkjet printing:
Using a constant stream of ink droplets through the high-pressure pump, liquid ink is sent from the reservoir to the thin nozzles of the gun body and printer. The ink droplets then pass through the electrostatic field and are deflected on the receiving material to create a hard copy of the digital photo.
Drop On Demand (DOD):
It can be thermal drop-on-demand or piezoelectric drop-on-demand, depending on the photo printing settings. The vast majority of consumer inkjet printers use thermal DOD for their photos. For thermal DODs, all print cartridges have heaters in a series of small chambers. To release ink droplets from these chambers, an electric current passes through the chamber to generate bubbles and secure the ink to the paper.
Piezoelectric DOD:
The system uses piezoelectric material in an ink-filled chamber behind each nozzle. This material changes shape to create pressure and pushes the ink out of the nozzle.
Laser Printer
Laser printers are not a great option for printing digital photos, but they are also a great option for format printers that can generate large amounts of images. Laser printers work by repeatedly passing laser beams through negatively charged cylinders called "drums".
The drum then collects the powder ink and transfers the image to heated paper so that the digital image can be permanently fused. Laser printers produce photos of average quality at best, but they are popular in corporate offices.
Conclusion of Portable Photo Printer
The majority of the best portable photo printers use the Zink (zero ink) method to transfer photos from their social media accounts to paper. Developed by Zink Holdings and licensed to printer manufacturers, the Zink method allows you to print images in a one-pass on thermal paper.
However, the Kodak and Canon printers use heat sublimation cartridges and do not require separate ink cartridges.
Top-Rated Portable Printer For Photos 2022