Buying a printer is no small task. You have to consider its cost and the quality of printing, but not only. Other criteria such as print speed, additional functionality, and cartridge yield must also be taken into account.
So, to help you choose your future printer, we have created a Printer Buying Guide 2022 following our selection.
Recommended articles: What type of printer to choose? and How to choose your ink cartridge?
Also Read: Best Printer For Cricut
What is Printer
A printer is a device that receives text and graphics from a computer and transfers this information to paper, usual sheets of standard dimensions. Printers come in many models, of different formats, speed, sophistication, and cost. In general, the more expensive printers are used for high-resolution color printing.
Printer Buying Guide
Smartphones and tablets may have eliminated the need for physical documents in many cases, but we are still far from a paperless society. This is why printers remain a useful device to have at the office/ home, especially in this period of confinement (telework and school at home).
Also Read: Top Printer For Ipad with wireless connectivity
Type of Printers
Among the printers for personal computers, one can distinguish between impact or non-impact printers. Early impact printers worked much like an automatic typewriter, with a hammer hitting an ink ribbon on the paper for each character printed. The dot matrix printer was a very common and affordable printer for personal computers. It was an impact printer that strikes paper line by line.
The best known non-impact printers are the inkjet printer, several brands of which produce inexpensive color models, and the laser printer. The inkjet printer, as its name suggests, sprays ink from a cartridge, very close to the paper that runs on a pickup roller. The laser printer uses a laser beam reflected by a mirror to attract ink (called toner ) to selected areas of the paper when a sheet passes over a rotating drum.
Also Read: Top Wireless Printer Under 100 USD Budget
Inkjet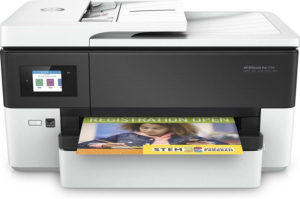 The inkjet printer also has its own special features. Many people choose to use this type. Let's see the details of this model.
This type of printer is more appreciated by people who want to print in color. It should also be adopted in an office to perform printing or scanning tasks. This model is versatile because it can print, scan, and make a copy.
Operation
For its operation, an inkjet printer requires liquid ink, sprayed in drops through conduits attached to a removable head. The ink is stored in tanks also called cartridges. For office use, the printer is equipped with a black, yellow, pink, and blue cartridge. These cartridges may or may not be fitted with a printing head. Some more premium models which allow better print quality. These models are mainly intended for photography.
Also Read: Best Inkjet Printer Under $200
Features:
Very good quality for text, graphics, and photos.
The noise of the inkjet printer may be higher during printing.
It has multiple functions: scanner, photocopier, fax, photos.
Inkjet printers use more ink.
Average speed: 10 ppm.
Drying time of a few seconds.
Less expensive cartridges to buy than toners.
Ink not very robust. But the one that is colored with pigment is more solid.
The ink can dry out if it is not used regularly.
The average life of a cartridge of a hundred pages.
Cheaper generic cartridges, but very often of poor quality.
Printing costs may vary.
Pros
Printers are not expensive.
Good quality for text and graphics.
Very good quality for photos.
Cons
The price of cartridges is often high.
Printing photos may require special paper.
The printer may become unusable for a long time, even if the cartridges are replaced.
Laser
The laser printer is above all a printer that differs from other conventional printing devices by the great performance of its achievements. Hereunder these particular features.
A laser printer is truly unique because it provides excellent quality reproduction of text and graphics. There are black and white, color, and multi-function laser printers. The printing speed is different according to different criteria. The slowest print 4 pages per minute. But there are those who have a very high speed, up to 200 pages per minute.
Also Read: Best Black and White Laser Printer
Operation
With this type of printer, images and texts are produced by scanning a laser beam immediately via the drum inside the printer. This tool implements a xerographic marking system to produce images in continuous mode. Its basic physical principle is static electricity. The laser beam, therefore, leaves the photosensitive cylinder where we can see the text by suspending the printing of a page.
Features:
Provide excellent quality for text and graphics.
Its average speed is 15 to 18 ppm.
Not very suitable for photos.
It requires some preliminary heating time.
Its ink resists illumination and time.
Toners have better longevity.
The ink dries fairly quickly.
Inexpensive and often good quality generic toners.
Low printing cost.
Pros
Fast printing.
Excellent quality for text and graphics.
Reduced cost per page for large volume
Cons
Bulky printers than inkjet models.
More complex long-term maintenance (it may be necessary to replace parts such as the drum or the oven).
Which printer for which use?
The quantity and type of printing you do are the two key elements in choosing the right printer:
You print occasionally: A color inkjet printer will do the trick.
You print photos: Choose a color inkjet printer with photo cartridges.
You print a lot of text and graphics: take a color laser for speed and cost per page. If you only print black and white text, a monochrome laser is a good choice.
Also Read: Best Printers For Chromebook
Thermal printer
Thermal printers are those that are often found in supermarkets. They are used to print receipts. They also have their own specification. This is what we will see below.
This type of printer is specially designed to print photos of 10 cm x 15 cm and their different versions. They are compact and light, which makes them practical for use on the go.
Also Read: Best Heat Transfer Printers
Operation
During operation, the thermal printer sprays the ink onto a transparent film in order to apply it to the printing material using a heating tip. There is what is called the primary color, including yellow, magenta, and cyan which are successively sprayed onto the special photographic paper.
The paper is rewound to its original location after each coloring. Finally, over the entire surface, a layer of insulating varnish is applied. It does not require drying time.
Features
Superior quality for text, graphics, and photos.
Excellent photo print quality with 300 dpi.
A single paper size, i.e. 10cm x 15cm photo paper.
Printing speed between 40 and 60 seconds.
It cannot be used by bureaucracy.
Very fast drying time.
Excellent resistance to light (UV) thanks to a layer of varnish.
High prices for cartridges and refills.
Cost per photo quite high.
Cost easily calculated by purchasing a pack: ink + paper.
Pros
Small & Light
Ease of use
Best for printer small receipts
mostly used in shopping marts/ General stores
Connected with Point of Sale software
Very fast, silent and does not require ink
3D
This type of three-dimensional printing device is intended for people wishing to make prototypes and small objects. To achieve this, you must draw the object on your PC using CAD software (computer-aided design). The printer cuts the design into slices, sculpts each slice, overlays them, then glues them.
Also Read:: Best Printer For Printable Vinyl Stickers
Pros
Printing three-dimensional objects
Devices are now affordable for private use
Cons
No traditional printing on paper possible
IT necessary for the control
Black and white Multifunction
If you only print text or documents in black and white, this is more than enough. This printer is generally a laser, most of the monochrome inkjet models have disappeared from the market today.
In addition to black and white printing, it can be used as a scanner, photocopier, or even a fax machine.
It's less bulky than several devices.
This printer is usually a laser.
Also Read: Laser Printer For Macbook Pro
Pros
Very low purchase price (compared to the purchase price of individual devices)
Very compact construction
Low energy consumption
Only one device must be configured
Cons
Possible lower quality compared to individual devices
Regular
All-in-One
Ink
Connectivity
All recent printers connect to a computer using a USB cable, which is generally not provided. If you prefer to delete this link, you can opt for a Wi-Fi connection: thanks to this wireless link, the printer can be shared with several users. Wi-Fi has become more popular and this functionality, which has become very affordable, is available on many entry-level multifunction devices.
Also Read: Best Portable Printer For iPhone
Note that it is sometimes necessary to connect the printer to the computer by USB cable during installation before you can use the Wi-Fi connection.
The "Wi-Fi Direct" makes it easy to connect wireless devices such as smartphones, tablets,s, or computers directly to the printer without a router or access point. You do not need to turn on the computer to print directly from the device.
Also Read: Best Portable Printer For Photos
Some access points (router or box) have an automatic connection button called WPS (Wi-Fi Protected Setup ): if you have a printer that supports this protocol, networking will be easy with a simple press on a button or by entering a password.
The last mode is NFC (Near Field Contact ): it is enough to bring the two devices together for the connection to be made. It's very simple but for the moment, compatible devices are rare.
Some printers, including mobile battery printers, can connect via Bluetooth to other devices. Bluetooth allows wireless proximity exchange.
If there are more than one of you sharing the printer, and your devices are not Wi-Fi-based, you may need to consider wired networking over Ethernet.
4-in-1 multifunction printers include a fax machine. You can configure the machine to receive faxes without turning on the computer.
Thanks to various applications (with a compatible printer), you can print directly remotely without first installing a driver on your smartphone or tablet. For example, with Airprint (Apple), you print on a printer that is on the same local network (Wi-Fi); with Google Cloud Print from Google, you can print from outside, the exchange is done via the Internet and the cloud. Some manufacturers even offer to assign an e-mail address to your printer to send it an e-mail directly with the documents to be printed.
You may also be interested in the Best Printer for Teachers
Things to Consider before buying Printer | Ultimate Printer Buying Guide 2022
Have you decided on a particular model? So we move on to the other purchase criteria, which generally apply to all printers. In case of differences depending on the type of printer, we will mention them in the different sections.
Before you start choosing a suitable printer, you should first answer a few questions for yourself. It is important to know exactly where you set foot.
What do you want to do with your printer? Should the machine only print, or also copy, fax, or scan? In addition, multifunction printers are very popular these days.
Do you only need text prints or also photo prints? Based on this, you don't necessarily have to save money on the printer. In addition, there are big differences between ink or toner.
How often do you print? Every week, every day, or does the device sometimes remain a few months without being used? If you use an inkjet printer but only print every few months, the printheads may dry out. In this case, a laser printer would be more suitable.
How much can a printer cost at most? The cost includes not only toner and ink but also food, consumables, or wear. Note that small and inexpensive printers in particular often have very high printing costs, so buying a "reasonably priced" device is worth it. An inkjet printer may (if you print regularly) be the best choice because it is relatively inexpensive to purchase and inexpensive in ink. Costs can be further reduced by refilling the cartridges.
Where do you want to print from? Only from your PC, or also from your smartphone, tablet, or other PC?
How important is your health in the face of possible fumes? For example, laser printers should only be in well-ventilated rooms.
Printing Resolution
When purchasing a printer, the resolution is always indicated by the manufacturer. There is a certain standard, which is as follows for the most popular devices.
Laser printer: generally 600 x 600 dpi (but also 1200 x 1200 dpi)
Inkjet printer: mainly 5,760 x 1,440 dpi (but also sometimes up to 9,600 x 2,400 dpi)
Previously, it was very easy to determine the quality of a printer. The higher the dpi value, the better the quality. This is no longer the case because today the quality of printing depends on many different factors. So it is possible that a printer with a lower dpi number has a better print output (thanks to various supplements) than a printer with a higher dpi number.
The Printer Price
When it comes to price, it's not just the purchase price itself - the price you pay for the device alone. Regular costs must also be taken into account with a printer. How many pages can a printer print before the cartridge needs to be changed? These values ​​can be broken down into price per sheet in order to compare the printers individually.
Most of the time, this comparison shows that a laser printer is cheaper and produces more prints than an inkjet printer at the same cost. However, it should also be noted if low printing costs do not have a negative impact on quality. For example, if a print costs only one penny per sheet, but the paper jam is constant, consider purchasing more expensive but better quality equipment.
A word of advice: there are peripherals specially designed to print no photo or only black and white tones. This is the case, for example, with a black and white laser printer, much cheaper to buy. Of course, you have to think twice about whether this is the right choice for you, but if photo printing is rarely or not necessary, this could be an inexpensive alternative to the 4 in 1 printer format or all in one.
Also Read: Cheap AirPrint Printer
The Printing speed
Of course, this does not necessarily depend on the pace of individual prints, but in the office or at home, it is more important to print a little faster. There are moderate or high-speed printers. Typically, manufacturers indicate how many prints can be made per minute.
Standard inkjet printers can print between 7 and 15 pages per minute, lasting approximately 4 to 9 seconds. On the other hand, a laser printer prints a little faster, around 12 to 25 pages per minute, or between 2.4 and 5 seconds per page. Keep in mind that the color and black printing speed is different in each case and manufacturers generally opt for the indication of standard black and white printing.
The Printer Brand
There are countless manufacturers that offer high-quality printers. It all depends, on the one hand, on the type of device you are looking for and, on the other hand, on the question of what your budget is. There are devices in virtually every price range. If you have chosen one of the manufacturers below, you should not expect losses, at least qualitatively.
Epson
Hewlett-Packard
Lexmark
Cannon
Dell
Samsung
Philips
Sharp
HP is particularly known (Hewlett-Packard) as a manufacturer of printers. The most popular models are, among others, the HP OfficeJet, HP DeskJet, e-All-in-One ranges. But other manufacturers (eg Canon PIXMA) sell popular 3 or 4 cameras in one. In addition, the manufacturer generally offers suitable toners and inks, as well as individual scanners, copiers, and other models.
Other Functions
We are now talking about a very interesting subject because, depending on the model and the manufacturer, the printers can be equipped with many extras and different functions.
Sign in
Most printers today are connected via Wi-Fi and therefore have a convenient Wi-Fi interface. But it is also possible to connect the printer via a USB cable/host to the computer if no mobile printing can be performed. You can get a reasonable price if you only use a LAN or USB connection, but today there are also many low-cost offers also equipped with a Wi-Fi interface. Besides, some printers are also capable of reading print jobs from memory cards, USB sticks, and digital cameras.
Duplex printing
If you only want to print on one side, but on both sides of the paper, you need a printer that supports two-sided printing. On the one hand, this saves you money by reducing paper supply and, on the other hand, protecting the environment.
Guarantee
The number of years a printer is guaranteed depends largely on the company from which you purchase the device. It is generally between one and three years.
Paper tray
The maximum number of sheets that can be inserted is determined by the corresponding model. Many devices allow approximately 150 to 250 sheets to be fed, however, there are gaps in both directions.
Print format
Almost every printer supports standard DIN A4 printing. However, if you also want to print to A3, A5 or even A6, you should pay attention to the exact details when purchasing the printer. However, manufacturers always indicate in their online store which print formats are supported by the conventional printer or the all-in-one printer.
Other
The other functions are for example the fax or scanner function, which is not always integrated, but not always necessary. In addition, some devices are equipped with an automatic document feeder (called ADF), which can be a relief, especially during frequent printing. In addition, integrating Apple AirPrint can be useful if you want to print using this technology without installing an Apple AirPrint driver.
FAQs
What do you intend to print?
The most important question is about the use you plan to make. If you want to print a lot of photos then you need an inkjet; your prints will be of better quality.
On the other hand, standard documents tend to be sharper with laser models and print faster.
This is why it is more common to find laser printers in small offices.
If you have to use a printer for daily tasks such as reports, school homework, some photos, and occasional A4 poster, laser or inkjet will do the trick. The main differentiate at this point is the price.
Which printer model to choose?
There are two types of paper printers, with and without colors: inkjet models and lasers.
To make the right choice, it is necessary that you identify your needs.
If you need to print mostly photos or images, then the inkjet printer is your best option.
On the other hand, if you have to print more text than photos, then the laser is best suited. It is also ideal for large volumes.
The monochrome laser printer is for those who mainly print text, and therefore generally do not need colors.
What is the total cost of a printer?
When purchasing a printer, be sure to assess the cost of replacing the cartridges. In the long run, buying toner cartridges can quickly come back to you for the same price as a laser printer.
To do this, refer to the average number of pages that can be printed before the cartridges run out.
If your priority is print quality (especially photos) and not cost, then consider the 5 or 6 ink models.
Do you need a multi-function printer?
The majority of printers sold are multi-functional and include a scanner. They allow you to scan your documents, save them in different formats, and share them with your friends or colleagues. They can also be used as photocopiers and faxes.
If, however, none of these functions are useful to you, then choose a more basic printer.
Conclusion:
Depending on whether you need to print a lot or a little, to print frequently or rarely, to print only in black and white, or also to shoot photos, the best peripherals adapted to your needs can be very different. The fact is that each device (and the corresponding combinations, for example, laser multi-function printers or inkjet multi-function printers) has advantages but also disadvantages.
Top-Rated Printers of 2022