Many artists who sell watercolours sell only the original paintings. Selling originals is a great way to make some extra money, but you can earn more with each original watercolour you create.
Successful artists make art their profession by having several different sources of income.
There is no doubt that watercolours and watercolour cards sell well online.
However, offering art at a fair price that is commensurate with the time spent on the original painting and the cost of the watercolour is too expensive for many art collectors.
Instead of waiting for art collectors to invest in original artwork, you have the opportunity to make money by offering reproductions of original artwork.
You can sell reproductions of your watercolours to people who cannot afford the originals but would like to have your work in their homes.
Also read: Best Printer For Book Printing
The challenge, however, is how to express the value of the watercolour when scanning or imaging the artwork.
Making a print from watercolour is similar to making a print from a graphite drawing.
Remember, the quality of every product you sell, whether it is an original watercolour or a Giclée print, is a reflection of your company's brand.
In addition to scanning your watercolour and sending it to your home printer, some additional steps are required.
There will always be slight differences between the original and the print, but you want to get as close as possible.
The print should be an accurate representation of the original work.
Also read: Best Printers For College Students
How To Make Prints of Watercolour Paintings
Watercolour Paintings
There are two options for printing watercolours.
The first option is to use a reproduction service to photograph or scan the artwork and create a print.
The advantage of using a reproduction service is that you do not have to spend time photographing the artwork, editing the digital image, and making prints.
The disadvantage is that you have to pay a higher fee to work with a professional reproduction service and many services require minimal printing.
The second option is to do the work yourself, which we will discuss today.
Also read: Best Printers For Art Prints
Another option is to hire a professional photographer or have a friend take watercolour pictures.
If you don't have a DSLR camera or can't afford one right now, ask a friend or family member whose hobby is photography.
Offer a free print of your work to a friend who can help, or make a custom painting for free.
Tips for photographing watercolour paintings
Using a level, mount the painting on an easel or wall, making sure it is perpendicular to the camera.
Mount a digital SLR camera on a tripod and make sure the camera angle is perpendicular to the painting.
Look through the viewfinder to ensure the work is square and even.
Use grayscale for the frame and photograph the painting.
If using a lamp, place it at a 45-degree angle and bounce the light evenly into the softbox.
If photographing the painting during the day, make sure the sunlight is evenly distributed.
Look at the digital image and repeat if necessary.
Touch up the digital image
The next step in printing a watercolour print is to retouch the digital image in Photoshop.
If you are using natural light or a soft box lighting kit to photograph your work, you will still need to adjust the tones of the digital image.
If you are not familiar with Photoshop, you will need to take the time to learn the software.
Making a Watercolour Print
Now that the hard work is done, you must decide how to print your watercolour painting.
There are three options for printing your artwork.
On-site printing service
Online Printing Service
Print at home
Also read: Best Printer For Home Use With Cheap Ink
The first option is to go to your local printing service
First, save the file to a USB flash drive and bring it to the store.
In most cases, a printing professional will be able to guide you in the right direction, which can take a reasonable amount of time.
How To Make Prints of Watercolour Paintings | Video Explanation
How To Make Prints of Watercolour Paintings | Infographic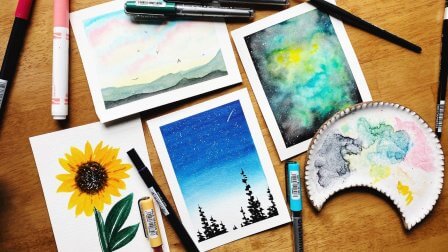 Questions to ask
What type of ink do you use?
What is the best paper for printing?
Is giclée printing available?
What sizes are available?
What are the prices and are wholesale prices cheaper?
Online Printing Services
Another option is to print using an online print service
While you cannot consult a professional in person, most online print services have customer service, and you can ask questions over the phone just as you would at a local store.
The downside is that you cannot see samples before ordering, as you can at a neighbourhood print store.
Online printing service:
Prelab Digital
Print at Home
Also read: Best Printers for Occasional Use
Finally, there is the option of printing at home.
Keep in mind that although high-quality printers are now available at affordable prices, you will not get the same quality as a professional giclée printing service unless you purchase a giclée printer.
To learn more about Giclée printing, please visit What is Giclée Printing?
However, there are high-quality printers that deliver excellent printing.
We use a home printer for our prints and local craft fair greeting cards, but we use a POD service for our online orders.
For more information on printers, see "9 Best Printers for Art Prints".
There are many POD services available.
I have used Fine Art America for years and have never had a problem with print quality.
Also read: Home Printer With Lowest Ink Cost
Final Thoughts on Watercolour Prints
There is nothing more enjoyable than selling original paintings, but if you are a business person, you will want to find other ways to make more money from your originals.
The tips in this article will help.
Take better watercolour pictures.
Edit digital images to express your original paintings.
The perfect printing solution for your art business.
Want to sell paintings online?
If so, please read How to Sell Paintings Online – The Complete Guide.
The Complete Guide
This article explains everything you need to know about selling art online, from start to finish.
Also read: Best Printers For Posters